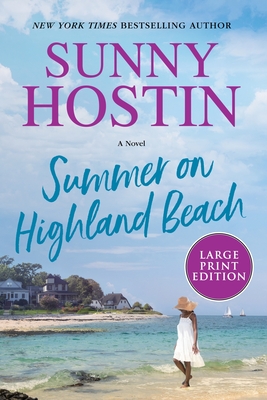 Summer on Highland Beach: A Novel (Summer Beach)
Publication Date:
May 28th, 2024
Publisher:
Harper Large Print
Description
The View cohost and three-time Emmy Award winner Sunny Hostin transports readers to Highland Beach in the captivating third novel of her New York Times bestselling Summer series.
Founded in the late 1800s by the son of Frederick Douglass, Highland Beach along the Chesapeake Bay is the oldest Black resort community in America. Inside this proud and secluded beach community of about 100 private homes is Olivia Jones's legacy.
But Oliva's legacy comes with thorns—intertwined are secrets of her aunt's death; a controlling grandmother who is determined to crush anyone or anything that will interfere with her son's political career; and a father who wants to rebuild the family he rejected decades ago.
In the midst of tense family drama, Olivia must decide if she wants to return to the beautiful life she's created in Sag Harbor—with the neighbors and wonderful man who've become central to her happiness—or finally achieve her dream of having a family and home to call her own in Highland Beach.
An awakening, spirited novel, Summer on Highland Beach celebrates family, friendship, and community and reminds us of the importance of the legacies of our collective past and finding one's way in the world.
Praise for Summer on Highland Beach: A Novel (Summer Beach)
"Hostin packs a lot into this breezy beach read... With hints of Elin Hilderbrand's beachy escapism and thematically related to Alyssa Cole's When No One Is Watching (2020), Summer on Sag Harbor will appeal to readers wanting an escape with a little depth. Readers who know Hostin from The View will clamor for this summer read." — Booklist
"Hostin's debut novel is aspirational escapism at its best, balancing an idyllic setting and lush, evocative language with emotional heft and adroit social commentary… Hostin's story is a vast, intricate and ultimately rewarding one about love, family and self-fulfillment... In short, this book is summer incarnate." — New York Times Book Review on Summer on the Bluffs
"A complicated, memorable tale of family, allegiances, secrets and summertime." — Good Morning America on Summer on the Bluffs
"The Emmy Award–winning lawyer and journalist invites readers to the exclusive Black beach community of Oak Bluffs, Martha's Vineyard, where the money is old, the secrets are deadly, and summer is more of a sport than a season…Think The Undoing with a hint of melanin, where everyone's wearing $300 sandals." — Essence on Summer on the Bluffs
"The highly anticipated summer must-read from the talented co-host of The View is finally here… No one, including the reader, is prepared for the feelings and secrets exchanged in this novel about love, family, and the courage to make the hardest of decisions." — Shondaland on Summer on the Bluffs
"This glorious piece of summer fiction takes us to Oak Bluffs, a slice of the island that's been home to the Black community elite for summers since the 1600s. Come for the ethereal setting and beautifully drawn characters, stay for the family dynamics, personal secrets and wisdom revealed." — Boston Herald
"Emmy-winning co-host of The View, Sunny Hostin invites readers to Martha's Vineyard in her fiction debut…what follows is a summer full of secrets that puts family ties to the ultimate test." — Woman's World
"Bestselling author and The View cohost Sunny Hostin has penned the ultimate beach read in Summer on the Bluffs." — Popsugar
"Summer on the Bluffs by the Emmy-award winning Sunny Hostin is a delicious, shimmering novel about the lives of Amelia Vaux Tanner and her three, grown-up godchildren. I was riveted by these fascinating, complicated women, and looked forward every day to opening Hostin's luminous novel and escaping, through its pages, to the golden dunes of Martha's Vineyard."  — Amanda Eyre Ward, New York Times bestselling author of The Jetsetters