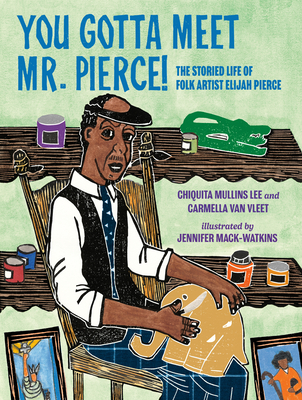 You Gotta Meet Mr. Pierce!: The Storied Life of Folk Artist Elijah Pierce
Publication Date:
January 31st, 2023
Usually Ships in 3 to 7 Days
Description
A picture book biography about the barber shop of woodcarver Elijah Pierce, recipient of the highest folk art honor in the United States.
"Creeeeak!" goes the screen door to self-taught artist Elijah Pierce's barbershop art studio. A young boy walks in for an ordinary haircut and walks out having discovered a lifetime of art.
 
Mr. Pierce's wood carvings are in every corner of the small studio. There are animals, scenes from his life, and those detailing the socio-political world around him. It's this collection of work that will eventually win Elijah the National Heritage Fellowship in 1982 just two years before his death. But the young boy visiting the shop in the 1970s doesn't know that yet. All he knows is: "You gotta meet Mr. Pierce!"
 
Based on the true story of Elijah Pierce and his community barber shop in Columbus, Ohio, this picture book includes cleverly collaged museum-sourced photos of his art and informative backmatter about his life. With engaging text by Pierce to the Soul! playwright Chiquita Mullins-Lee and Christopher Award-winning author Carmella Van Vleet, it's illustrated with striking Japanese woodblock by Jennifer Mack-Watkins. A new addition to vital Black art history!
Praise for You Gotta Meet Mr. Pierce!: The Storied Life of Folk Artist Elijah Pierce
PRAISE FOR YOU GOTTA MEET MR. PIERCE!
THREE STARRED REVIEWS
* "Thoughtful and enlightening." --Booklist, starred review. 
* "This thoughtfully constructed book tells an appealing story, introduces a prolific
African American artist, and leaves readers to ponder the role of formal training in art." --School Library Connection, starred review.
* "The conversational framing imbues this picture book biography with warmth and intimacy ... There's plenty of fodder here for themed storytimes on Black history and art." --The Bulletin of the Center for Children's Books, starred review.
"Likely to spark some real love in conversations surrounding the role of folk art, community outposts such as neighborhood barbershops, and more." --School Library Journal
"An intimate encounter with an artist who should be better known." --Kirkus Reviews
"The brief narrative works on several layers." --Horn Book

"Action words ("DRAPE /SNAP," "SAND/DUST") evoke movement and expertise throughout, while Mack-Watkins's use of woodcut textures brings the subject's medium to the fore." --Publishers Weekly