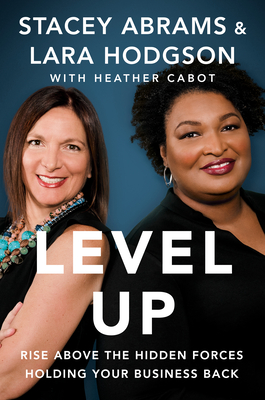 Level Up: Rise Above the Hidden Forces Holding Your Business Back
Publication Date:
February 22nd, 2022
Usually Ships in 3 to 7 Days
Description
An inspiring and revelatory guide to starting and scaling a small business, from powerhouse duo Stacey Abrams and Lara Hodgson
Like many business owners, renowned politician and activist Stacey Abrams didn't start a business because she dreamed of calling herself an entrepreneur. Her part-time post (and its $17,310 annual salary) as a member of the Georgia House of Representatives necessitated striking out on her own as a consultant—her first small business. Then, Stacey and her friend Lara Hodgson launched an infrastructure advisory firm—named Insomnia Consulting because they did their best thinking at 3:00 a.m.—and then another business, and then another.
Fifteen years into their entrepreneurial journey together, they have tackled the obstacles that many business owners face: how to grow sustainably, hire thoughtfully, and keep up with the Goliaths in your industry.
Now, for the first time, Stacey and Lara share their inspiring and relatable personal story and lessons learned the hard way to show how every business owner can confront the forces that conspire to keep small businesses small. Lauded for her "resilient, visionary leadership" (Barack Obama) and celebrated as a "passionate advocate of democracy" (Madeleine Albright), Stacey now brings her fierce sense of justice to the challenges that America's business owners face. Level Up arms readers with the confidence, know-how, and savvy to overcome the obstacles that hold their businesses back.
Praise for Level Up: Rise Above the Hidden Forces Holding Your Business Back
Praise for Level Up

"A fresh take on entrepreneurial endeavors and a love letter to small businesses everywhere… packed with insight and inspiration from two successful entrepreneurs." -- Kirkus (starred review)

"Essential reading for every current and potential small-business owner...brilliantly written, deeply insightful." -- Booklist (starred review)
"… enormously validating… Small business owners who feel lost in the trenches should give this a look." -- Publishers Weekly
"A practical, how-to manual with examples and actionable principles for founders looking to innovate, break free and move forward." -- Financial Times
"Beyond the great wealth of business experience, expertise, and advice they bring to the table, the greatest example Stacey Abrams and Lara Hodgson offer may be in the partnership they have formed and sustained while building three companies together." -- Porchlight Books