New Release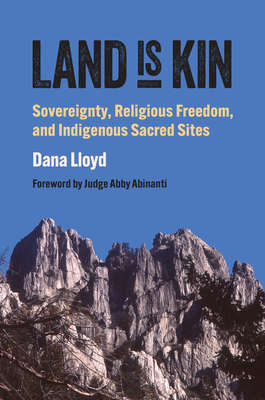 Land Is Kin: Sovereignty, Religious Freedom, and Indigenous Sacred Sites, Foreword by Judge Abby Abinanti (Studies in Us Religion)
Publication Date:
November 16th, 2023
Publisher:
University Press of Kansas
Usually Ships in 3 to 7 Days
Description
Responding to Vine Deloria, Jr.'s call for all people to "become involved" in the struggle to protect Indigenous sacred sites, Dana Lloyd's Land Is Kin proposes a rethinking of sacred sites, and a rethinking of even land itself. Deloria suggested using the principle of religious freedom, but this principle has failed Indigenous peoples for decades. Lloyd argues that religious freedom fails Indigenous claimants because settler law creates a tension between two competing rights--one party's religious freedom and another party's property rights. In this contest, the right of property will always win.
Through an analysis of the 1988 US Supreme Court case Lyng v. Northwest Indian Cemetery Protective Association, which she interprets as a case about sovereignty and the meaning of land, Lloyd proposes a multilayered understanding of land and the different roles it can simultaneously play. Rejecting the binary logic of sacred religion versus secular property, Lloyd uses the legal dispute over the High Country--an area of the Six Rivers National Forest in Northern California sacred to the Yurok, Karuk, and Tolowa Indigenous nations--to show that there are at least five different, but not equally valid, ways to understand land in the Lyng case: home, property, sacred site, wilderness, and kin. To protect the High Country, the Yurok filed a religious freedom lawsuit but then proceeded to describe the land as their home in court. They lobbied for protecting the High Country through a wilderness designation even as they continued to argue that they had been managing it for centuries. They have purchased large parcels of ancestral land and also declare the land their kin, a relationship that ostensibly excludes the possibility of ownership.
Land Is Kin demonstrates the complexity of land in contemporary religious, political, and legal discourse. By drawing on Indigenous perspectives on the land as kin, Lloyd points toward a framework that shifts sovereignty away from binary oppositions--between property and sacred site, between the federal government and Native nations--towards seeing the land itself as sovereign.