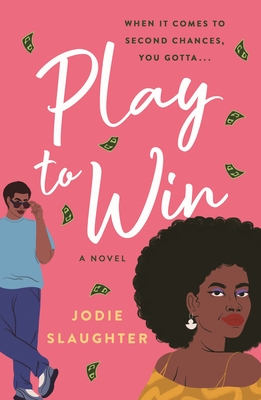 Play to Win: A Novel
Publication Date:
July 11th, 2023
Publisher:
St. Martin's Griffin
Usually Ships in 3 to 7 Days
Description
Jodie Slaughter's latest rom-com, Play to Win, is a sizzling romance where a winning lottery ticket is meant to be a new start but instead becomes a second chance at love.
Miriam Butler's life is going nowhere in the slowest, most excruciating way possible. Stuck in the same barely-paying job she's had since she was sixteen and spending every night sleeping in the spare twin bed in her mother's house, her existence might be hilarious if it wasn't so bleak. One trip to her favorite corner store upends everything when she finds herself the winner of a Mega Millions Lottery Jackpot. Unfortunately, not even life-altering roses come without their painful thorns. Hers just so happen to be in the form of an estranged husband who has the right to claim his share of her money.
It's been eight years since Leo Vaughn has had a conversation with his wife. When she calls out of the blue, practically begging him to come back to Greenbelt, the last thing he expects her to tell him when he gets there is that she's come into a whole heap of money. She offers him a life-changing proposition of his own. Take a lump sum, finally sign the divorce papers, and be done with her for good. Only, a forever without her is the last thing Leo wants. So he gives a proposition of his own. One that won't cost her nearly as many millions, but will buy him the time to do the one thing he's been hungry to do since he left -- win her back.
Praise for Play to Win: A Novel
A New York Times Book Review Editors' Choice
Book Riot, "25 of the Best Romance Books for Summer 2023" and "The Best New Book Releases Out July 11, 2023"
Goodreads, "The Hottest New Romances for Summer" and "Readers' Most Anticipated New Romances for July"
Pop Sugar, "The Best New Romance Novels to Fall in Love With in 2023"
She Reads, "Most Anticipated Romances of Summer 2023"
The Root, "July 2023 Books by Black Authors We Can't Wait to Read"
USA Today, "10 Swoon-worthy Romance Books Coming Out For Summer 2023"
Sisters from AARP, "These Beach Reads Are the Perfect Escape"
"This contemporary romance set in the South is an immensely sexy and emotionally tender story about second chances, community, and family. Although it's a stand-alone novel, it takes place in the same town as Slaughter's previous rom-com, Bet on It; both first-time readers and her fans will enjoy." - LIBRARY JOURNAL (starred review)
"This romance is sexually frank, starkly intimate and often sizzling." - BOOKPAGE
"I adore Jodie Slaughter's books and writing style so this had to make the list." - CULTURESS, "15 anticipated romance books to add to your 2023 TBR"
"Slaughter's exploration of the importance of communication and self-healing, and thoughtful consideration of the socioeconomic pressures on Black families will resonate. Devoted series fans will find plenty to enjoy." - PUBLISHERS WEEKLY
"Play to Win is a small-town romance in the way that Mad Max: Fury Road is a road trip movie...[T]here's no miraculous redemption here. There's only love's work: rebuilding trust and taking care of your people. Love is a choice you make over and over, not just on one day in a white dress." - NEW YORK TIMES
Praise for Bet On It:

"A steamy Southern romance. Bet On It might just be the sexiest book about bingo ever." - PEOPLE
"An emotional sucker punch mixed with a nuanced and tender modern romance." - KIRKUS REVIEWS
"[A] beautiful romcom that handles anxiety with care." - BOOK RIOT, "24 Black Romance Books to Add to Your TBR List In 2022"
"An excellent read full of heart, sass, and steam that's perfect for fans of Tessa Bailey and Jasmine Guillory." - LIBRARY JOURNAL
"This sexy, warmhearted rom-com [is] a fun but thoughtful gem." - PUBLISHERS WEEKLY
"Engaging and warm and a salve to anyone who has spent the summer in the South, trying to figure out how to fill the quiet summer nights." - THE WALL STREET JOURNAL
"A delight." - USA TODAY, "July's best rom-com books"
"A fun romance with a big heart, Bet on It is a winner." - SHELF AWARENESS
"While you'll find a steamy romance within the pages, I enjoyed the tender handling of mental health struggles from both Aja and Walker's perspectives." - BUZZFEED
"Romance author Slaughter provides plenty of humor to prevent the serious challenges her protagonists grapple with from overwhelming the appealing love story. Their struggles are realistic, adding a layer of depth to a memorable story." - BOOKLIST
"[Jodie Slaughter] has been both an auto-buy and a cannot-miss author for me. Bet On It delivers on so much of what I've personally enjoyed from Slaughter in the past but also introduces new and compelling framing, as well as a story concept that manages to be equal parts sexy, swoony, emotional, and complex...Slaughter writes a love story that is as much about compassion and understanding between two people as it is romance and hot, hot attraction." - PASTE MAGAZINE, "The Best New Romance Books of July 2022"
"I had to include a Jodie Slaughter book on this list. Whenever she releases a new book, I cannot help but love it. I've read almost all of her books, and each day my love for her stories and writing continues to grow." - BUZZFEED, "I've Read Hundreds Of Romance Novels, And These 35 Are My Absolute Favorites"
"Bet on It reads like the first rays of sun on your face after a long winter. I loved Aja and Walker's story about two genuinely good people who are playful and sweet to each other, helping one another heal, while also having incredibly hot sex. With standout portrayals of beautiful, generous friendships in addition to the love story, this is a book to be savored." - Rosie Danan, author of The Intimacy Experiment and The Roommate
"Jodie Slaughter is must-buy author, and Bet on It is a perfect example of what makes her writing delicious. Aja and Walker's story is hot, sweet, and utterly unique, with a rock-solid emotional core." -Talia Hibbert, New York Times bestselling author of Act Your Age, Eve Brown
Praise for White Whiskey Bargain:
"This is a book where heat builds slowly but intensely, featuring an emotionally mature couple who don't let their fears keep them from exploring a romance. I was pleasantly surprised to be sucked into the book, and weeks later, I'm still thinking about my favorite chapters." - Smart Bitches, Trashy Books
"White Whiskey Bargain brought a new light to my life and showed me the things that really mattered. It's also really romantic and it has an "only one bed" trope that made me weak in the knees!" - Frolic

Praise for To Be Alone With You:
"The yearning in this novel is so real. I absolutely adored every second I was reading it." - Frolic
"To Be Alone With You packs quite the punch. It's intense, emotional, and I could drown in Jodie Slaughter's writing forever!" - The Infinite Limits of Love