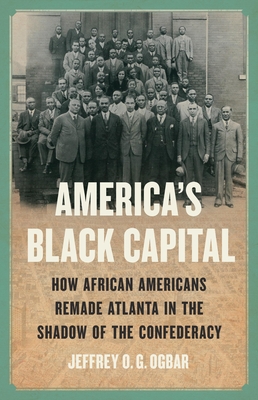 America's Black Capital: How African Americans Remade Atlanta in the Shadow of the Confederacy
Publication Date:
November 14th, 2023
Usually Ships in 3 to 7 Days
Description
The remarkable story of how African Americans transformed Atlanta, the former heart of the Confederacy, into today's Black mecca  
  
Atlanta is home to some of America's most prominent Black politicians, artists, businesses, and HBCUs. Yet, in 1861, Atlanta was a final contender to be the capital of the Confederacy. Sixty years later, long after the Civil War, it was the Ku Klux Klan's sacred "Imperial City." 
 
America's Black Capital chronicles how a center of Black excellence emerged amid virulent expressions of white nationalism, as African Americans pushed back against Confederate ideology to create an extraordinary locus of achievement. What drove them, historian Jeffrey O. G. Ogbar shows, was the belief that Black uplift would be best advanced by forging Black institutions. America's Black Capital is an inspiring story of Black achievement against all odds, with effects that reached far beyond Georgia, shaping the nation's popular culture, public policy, and politics. 
Praise for America's Black Capital: How African Americans Remade Atlanta in the Shadow of the Confederacy
"An illuminating and thought-provoking history of Atlanta from the 19th century to the present…Ogbar's meticulous account is both an eye-opening reassessment of the origins of African American political power and a significant contribution to American history."
 —Publishers Weekly (starred review)
"A revealing history that points to a Black Atlanta destined to be an ever more important economic and political center."
 —Kirkus
"Elegantly written and exhaustively researched, America's Black Capital is a brilliant chronicle of both Atlanta, the Southern city, and Atlanta, the metaphor for a segment of the American experience. Here is a saga of race, aspiration, war, ambition, and the tide of history told through the story of a single metropolis. Jeffrey Ogbar has produced a book that is every bit as vital and essential as the place he writes about."
 —Jelani Cobb, coeditor of The Matter of Black Lives
"Jeffrey O. G. Ogbar's America's Black Capital is a towering achievement. It powerfully captures the dynamism of Black politics in Atlanta—in great depth and sheer brilliance. This remarkable book is an inspiring work of history in which Black people take center stage as the key architects of their own destiny."
 —Keisha N. Blain, coeditor of the No. 1 New York Times bestseller Four Hundred Souls and award-winning author of Until I Am Free
"Jeffrey Ogbar has crafted a first-rate work of historical consciousness-raising. America's Black Capital is a stirring testament to the generations of Black Atlantans who, from the ashes of the Confederacy, raised a bastion of Black political power and cultural excellence. A tremendous feat."
 —Peniel Joseph, author of The Third Reconstruction
"Spectacular! America's Black Capital is a landmark in Black history. Jeffrey Ogbar provides an expert excavation of how Atlanta came to be seen as the 'Black Mecca,' including a deftly drawn origin story for Dr. Martin Luther King, Jr. A dazzling book."
 —Gerald Horne, author of The Counter-Revolution of 1776