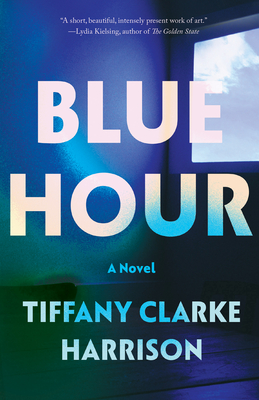 Blue Hour: A Novel
Publication Date:
April 4th, 2023
Usually Ships in 3 to 7 Days
Blue Houris a raw and unflinching look at Black motherhood in America. Tiffany Clarke Harrison's almost stream of consciousness writing style is reminiscent of Natasha Brown and Jenny Offill, making it quick but packing a punch.
April 2023 Indie Next List
Description
A Barack Obama 2023 Summer Reading selection
What is motherhood in the midst of uncertainty, buried trauma, and an unraveling America? What it's always been—a love song.
Our narrator is a gifted photographer, an uncertain wife, an infertile mother, a biracial woman in an unraveling America. As she grapples with a lifetime of ambivalence about motherhood, yet another act of police brutality makes headlines, and this time the victim is Noah, a boy in her photography class. Unmoored by the grief of a recent devastating miscarriage and Noah's fight for his life, she worries she can no longer chase the hope of having a child, no longer wants to bring a Black body into the world. Yet her husband Asher—contributing white, Jewish genes alongside her Black-Japanese ones for any potential child—is just as desperate to keep trying.
Throwing herself into a new documentary on motherhood, and making secret visits to Noah in the hospital, this when she learns she is, impossibly, pregnant. As the future shifts once again, she must decide yet again what she dares hope for the shape of her future to be. Fearless, timely, blazing with voice, Blue Hour is a fragmentary novel with unignorable storytelling power.
Praise for Blue Hour: A Novel
Vulture, A Best Book of the Year
Ms., A Most Anticipated Title of the Year
One of Electric Literature's Books by Women of Color to Read This Year
A Debutiful Most Anticipated Book of the Year
Zibby's Mag, A Most Anticipated Book of 2023
Goodreads, A Buzziest Debut Novel of the Year

"Full of musings, debate, anger, distress and yet, ultimately, hope, Blue Hour is incredibly powerful." —Zibby Owens, Good Morning America
"Gasp-worthy . . . How did Harrison achieve this spectacular feat of emotional withholding while also making readers feel so much?" —J. Howard Rosier, Vulture
"This assured and highly interior novel unfolds in a series of short paragraphs, emotionally charged scenes, and poetic fragments . . . The intimacy of the narration paired with Harrison's lyrical prose gives it a startling immediacy—everything feels like it's happening all at once. It's an urgent, heartbreaking, and profound meditation on motherhood, art-making, uncertainty, the ongoing violence of American racism and police brutality, and the courage it takes to choose the future." —Laura Sackton, BuzzFeed
"With every word, Blue Hour cautions against holding back: from being seen, heard and understood; from persevering in spite of forces that would see you destroyed; and from expressing love on every possible occasion, before your chances run out." —Gianni Washington, Chicago Review of Books
"In lyrical language, Harrison skillfully explores the complex tensions that gnaw at the expectant mother [...] and offers an intimate view of the couple's pain. This signals the arrival of a brave new writer." —Publishers Weekly
"Harrison's writing is unflinching throughout, but the depictions of miscarriage and infertility—and their effect on a marriage—are particularly haunting . . . In the vein of Jenny Offill and Raven Leilani, Harrison's debut offers an intimate slice-of-life portrait with no easy questions or answers. A poetic novel that dances on the edge of hope and despair." —Kirkus Reviews
"In a world full of demands and distractions, Blue Hour asks us to pause and sit with our grief. Challenging, intimate, and relevant, this novel is a meditation on the boundaries of hope." —Osa Atoe, author of Shotgun Seamstress
"Blue Hour is a pulsing and powerful novel about grief, motherhood, storytelling, and self. At once ragged, raw, and transcendent, Harrison's novel marries the universality of maternal love and loss with the specificity of mothering Black and biracial children in contemporary America. A short, beautiful, intensely present work of art." —Lydia Kielsing, author of The Golden State
"Blue Hour is a poetic and feverish debut, a story that laces together the struggles of marriage and motherhood, art and artist, race and violence in America into a powerful web, much bigger and stronger than its slender spine would suggest. If you loved Dept. of Speculation by Jenny Offill, the work of Rachel Cusk, or Luster by Raven Leilani, this book is for you." —Ashley Warlick, author of The Arrangement
"An exquisite melancholic portrait of motherhood and marriage for a biracial woman in America. Tiffany Clarke Harrison writes about miscarriage with fleshy, beating rawness leaving us painfully undone, and beautifully seen. Blue Hour has captured the dark question of modern motherhood amid police brutality and racism in America—do we really want to bring kids into this? There is no other book I'd rather read, than hers . . . I never want to love or lose again without it." —Sarah Hosseini, Writer, Journalist, Professor