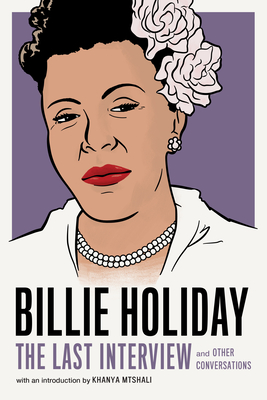 Billie Holiday: The Last Interview: and Other Conversations (The Last Interview Series)
Publication Date:
July 30th, 2019
Publisher:
Melville House
Special Order - Subject to Availability
Description
The first-ever collection of interviews with the tortured but groundbreaking singer Billie Holiday, part of Melville House's beloved Last Interview series
 
Legendary singer Billie Holiday comes alive in this first-ever collection of interviews from throughout her career. Included is her last interview, given from her deathbed in a New York City hospital, where police were standing by ready to arrest her for a parole violation should she recover. Also included: The transcript of an interrogation by a US Customs official questioning about whether she'd violated her parole by using drugs on a foreign tour. 
But the book is more than a look at just the famously tragic side of her life. In other conversations, drawn from music magazines, late-night radio programs, and newspapers across the US and Canada, she discusses her childhood, musicians who influenced her, her friendship -- and falling out -- with the influential sax player Lester Young, why she chose the gardenia as her symbol, why she quit Count Basie's band, her substance abuse problems, writing songs and whether she wrote her own memoir, and more. 
In frank and open conversations, Billie Holiday proves herself far more articulate, aware, intelligent, and even heroic than the way she's often portrayed. This collection is an essential volume for all who have been moved by her music.