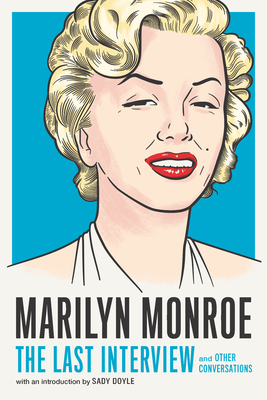 Marilyn Monroe: The Last Interview: and Other Conversations (The Last Interview Series)
Publication Date:
October 6th, 2020
Publisher:
Melville House
Special Order - Subject to Availability
Description
"I'm so many people. They shock me sometimes. I wish I was just me!" --Marilyn Monroe
Nearly sixty years after her death, Marilyn Monroe remains an icon whom everyone loves but no one really knows. The conversations gathered here--spanning her emergence on the Hollywood scene to just days before her death at age 36--show Monroe at her sharpest and most insightful on the thorny topics of ambition, fame, femininity, desire, and more. Together with an introduction by Sady Doyle, these pieces reveal yet another Marilyn: not the tragic heroine she's become in the popular imagination, but a righteously and justifiably angry figure breaking free of the limitations the world forced on her.
Praise for Marilyn Monroe: The Last Interview: and Other Conversations (The Last Interview Series)
"I owe Marilyn Monroe a real debt . . . She was an unusual woman, a little ahead of her times. And she didn't know it." —Ella Fitzgerald
 
"Marilyn was a sensitive, misunderstood person, much more perceptive than was generally assumed. She had been beaten down, but had a strong emotional intelligence—a keen intuition for the feelings of others, the most refined type of intelligence." —Marlon Brando 
 
"The minute that camera turned on her, she became this incredible creature. . . She was just herself, and she was absolutely dazzling as herself." —Lauren Bacall