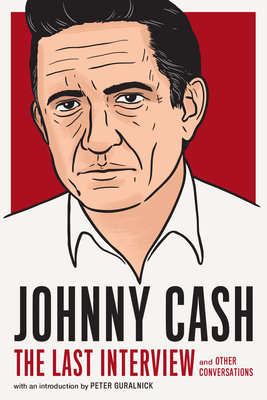 Johnny Cash: The Last Interview: and Other Conversations (The Last Interview Series)
Publication Date:
March 16th, 2021
Publisher:
Melville House
Usually Ships in 3 to 7 Days
Description
Johnny Cash seemed like the stuff of legend when he was alive, and even more so as he achieved something close to sainthood in death. The interviews collected here bring us closer to the actual man: brilliant, falliable, introspective, and longing for redemption.
Mythmaker, philosopher, sinner, and saint, Johnny Cash is perhaps the quintessential American icon. Though often rebellious and unruly, he rarely spoke without intention, sincerity, and a bit of poetry. Together with an introduction by music critic Peter Guralnick, the interviews here spotlight that inimitable rhetorical style, and the fascinating diversity of subjects that made him as relatable as he was mysterious. From a hopped up early interview with Pete Seeger, to a meditation on sobriety, to the last interview in which he stares calmly into the face of death, this collection brings together decades of insight as deeply profound as the unforgettable baritone of The Man in Black himself.