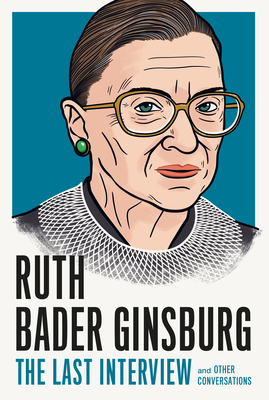 Ruth Bader Ginsburg: The Last Interview: and Other Conversations (The Last Interview Series)
Publication Date:
December 1st, 2020
Publisher:
Melville House
Usually Ships in 3 to 7 Days
Description
The newest entry in the increasingly popular series collects fascinating and in-depth interviews with Bill Moyers, Nina Totenberg, and more, and conversations (with Antonin Scalia and high school students) from throughout the long, ground-breaking career of one of the greatest, most influential, and most exciting legal minds in American history.
From her start in Depression-era New York, to her final days at the pinnacle of the American legal system, Ruth Bader Ginsburg defied convention, blazing a trail that helped bring greater equality to women, and to all Americans. In this collection of in-depth interviews -- including her last, as well as one of her first -- Ginsburg details her rise from a Brooklyn public school to becoming the second woman on the United States Supreme Court, and her non-stop fight for gender equality along the way. Besides telling the story behind many of her famous court battles, she also talks openly about motherhood and her partnership with her beloved husband, her Jewishness, her surprising friendship with her legal polar opposite Justice Antonin Scalia, her passion for opera, and, in one of the collection's most charming interviews, offers advice to high school students wondering about the law. It is, in the end, both an engrossing look into a fascinating life, and an inspiring tribute to an American icon.