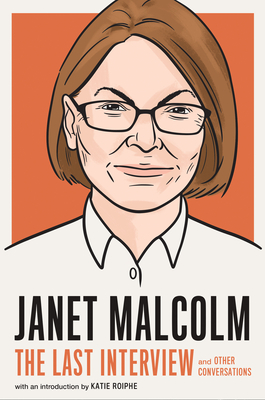 Janet Malcolm: The Last Interview: and Other Conversations (The Last Interview Series)
Publication Date:
June 14th, 2022
Publisher:
Melville House
Special Order - Subject to Availability
Description
A provocative collection of interviews with the sublimely talented author of The Journalist and the Murderer
The legendary journalist, Janet Malcolm, opened her most famous work The Journalist and the Murderer with the line: "Every journalist who is not too stupid or too full of himself to notice what is going on knows that what he does is morally indefensible."
Ever since its publication in 1980, she only increased her reputation as a devastatingly sharp writer, whose eye for observation is matched only by her formal inventiveness and philosophical interrogations of the relationship between journalist and subject.
Predictably, as an interview subject herself, she was an intimidating mark. In this collection, interviewers tangle with their own projections and identifications, while she often, gamely, plays along. Full of insights about her writing process, the craft of journalism, and her own analysis of her most famous works, this collection proves that Janet Malcolm is just as elusive and enlightening in conversation as she was on paper.
Praise for Janet Malcolm: The Last Interview: and Other Conversations (The Last Interview Series)
"...The transcripts channel and help explain Malcolm's mesmerizing journalism, only the tables are turned. Reading the interviews has the perverse quality of seeing a judge on trial or your analyst in therapy." -- n+1
"...Seeing the trajectory of Malcolm's pointed observations over nearly two decades is a treat. Fans of the prolific writer will want to pick up this showcase of her characteristic wit." -- Publishers Weekly
"Readers unfamiliar with Malcolm's work will get a sense of her importance from the five interviews collected in the publisher's latest entry in their Last Interview series." -- Kirkus
"Melville House has put together a tight, handy volume, easy to read in one sitting. Many Malcolm fans will be happy to race through it and be in her company once again." -- The Post and Courier