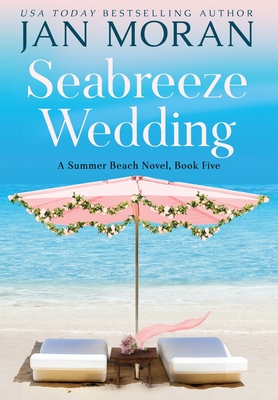 Seabreeze Wedding (Summer Beach #5)
This product is not returnable.
Publication Date:
May 18th, 2021
Publisher:
Sunny Palms Press
Usually Ships in 3 to 7 Days
Description
The high summer season. A long-awaited wedding. Surprises at a historic beach inn.
*From a USA Today Bestselling Author*
At the historic Seabreeze Inn, a summer beach wedding has sisters Ivy and Shelly Bay busier than ever with wedding plans. New guests arrive, bringing with them fresh challenges and chaos. As Ivy prepares the old beach house for a family wedding, surprising discoveries from decades past arise. RSVP now and join the party.
Read Seabreeze Wedding as a standalone or as part of the beloved Summer Beach series. The heartwarming story is set on the sunny Southern California coastline. Visit the small town of Summer Beach now, where the bonds of friendship and love prove unbreakable. Available in ebook, paperback, hardcover, and audiobook.
REVIEWS FOR THE SUMMER BEACH SERIES
More than 5,000 5-star reviews on Goodreads
"A novel that gives fans of romantic sagas a compelling voice to follow." Booklist
"SEABREEZE INN is truly an enjoyable, lovely read that will lift your spirits. If you enjoy a light, breezy read, old houses, and characters with secrets, you will want to add this book to your TBR. Art lovers will also enjoy this book that slips in a little romance." - Silver's Reviews
"An entertaining beach read that offers multi-generational context and humor." - InD'Tale Magazine
"A fun read that grabs you at the start." -Tina Sloan, Author and Award-Winning Actress
"A wonderful story that is great at any time of the year. Will make you feel like the sea breeze is streaming through your hair." - Laura Bradbury, Bestselling Author, My Grape Year
"I love stories where the protagonist connects with an old love Especially if the story is set at the beach. Wonderful characters and a sweet story." - Kellie Coates Gilbert, Bestselling Author, The Pacific Bay Series
Summer Beach Series
Seabreeze Inn
Seabreeze Summer
Seabreeze Sunset
Seabreeze Christmas
Seabreeze Wedding
Seabreeze Book Club
Coral Cottage
Coral Cafe
Coral Holiday