Discounted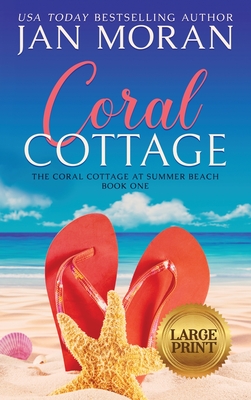 Coral Cottage (Coral Cottage at Summer Beach #1)
Previous price:

$28.99
Current price:

$23.99
This product is not returnable.
Publication Date:
January 12th, 2023
Publisher:
Sunny Palms Press
Usually Ships in 3 to 7 Days
Description
A fresh start. A sunny beach town. One summer to rediscover her life.**A USA TODAY BESTSELLER **
A new beach read series set in the beloved village of Summer Beach.
When Marina Moore loses her job, she seeks refuge at her grandmother's beach house called the Coral Cottage. Now in her mid-forties with children in college, Marina is in dire need of her grandmother's gutsy advice to a well-lived life. Marina meets an old friend, Ivy Bay, proprietor of the Seabreeze Inn, who encourages her to share her love of food at the local farmer's market. Soon Marina's sister Kai arrives on a summer break from her musical theater troupe. Together, the sisters discover that life holds a second chance for each of them.
Jack Ventana is on a six-month sabbatical to write his first book. The only company he wants is his inquisitive Labrador Retriever puppy, but when he receives a call from an old colleague, he finds his life altered in ways he never imagined-including the prospect of romance.
What began as a short, reclusive holiday is destined to change Marina's life, especially when Jack's research uncovers her grandmother Ginger's hidden past. Join the fun in Summer Beach, where the bonds of friendship and love prove unbreakable.
From the author of the bestselling Seabreeze Inn at Summer Beach book series, the Coral Cottage is a new chapter on the sunny coastline. Start this women's fiction series now in ebook, hardcover, paperback, large print, and audiobook.
"I love how the women in Jan's stories are always intelligent and strong businesswomen. At the core of all her books is a strong, close-knit family." - Reviewer B.J.T.
"Jan Moran is the new queen of the epic romance." - USA Today Bestselling Author Rebecca Forster
" Jan Moran is] is a compelling voice to follow." - Booklist
"Each of Jan Moran's books is captivating and reflects her love of the written word, as well as her insatiable curiosity." - Reviewer Andrea S.