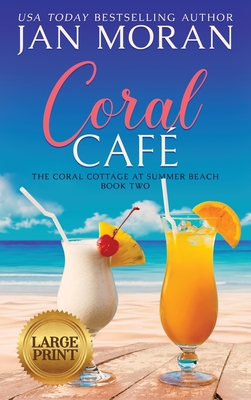 Coral Cafe (Coral Cottage at Summer Beach #2)
This product is not returnable.
Publication Date:
January 12th, 2023
Publisher:
Sunny Palms Press
Usually Ships in 3 to 7 Days
Description
A beach cafe. An event to remember. The summer continues.**From a USA Today Bestselling Author**
When Marina Moore decides to expand her farmer's market and pop-up dinner business, the next step is a cafe on the shores of Summer Beach. But challenges loom, and Marina must quickly become more creative than ever, especially when her children need help. Her sister Kai's position with a musical theater troupe forces more changes. Their sister Brooke is having marital challenges, while grandmother Ginger continues to contribute her advice on the life well-lived, if only her granddaughters will listen.
Meanwhile, writer Jack Ventana stumbles onto more old secrets in Summer Beach, and his overgrown Labrador retriever puppy Scout manages to dig his way into trouble on the beach. When the status quo changes between Jack and Marina, their budding romance is threatened.
Join the fun once again in Summer Beach, where the bonds of friendship and love prove unbreakable.
From the author of the USA Today bestselling Seabreeze Inn at Summer Beach book series, the Coral Cafe is a new chapter on the sunny coastline.
REVIEWS
"I love how the women in Jan's stories are always intelligent and strong. At the core of all her books is a strong, close-knit family." - Reviewer B.J.T.
"Jan Moran is the new queen of the epic romance." - USA Today Bestselling Author Rebecca Forster
" Jan Moran is] is a compelling voice to follow." - Booklist
"Each of Jan Moran's books is captivating and reflects her love of the written word, as well as her insatiable curiosity." - Reviewer Andrea S.