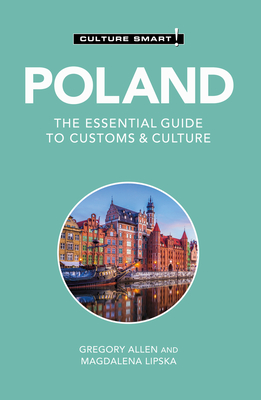 Poland - Culture Smart!: The Essential Guide to Customs & Culture
Publication Date:
September 28th, 2023
Usually Ships in 3 to 7 Days
Description
Don't just see the sights―get to know the people.
Culture Smart! guides provide travelers with vital information about the values and attitudes of the people they will meet, and practical advice on how to make the most of their time abroad. Travelers to Poland in particular, a country in transition from its Communist past, need to be open-minded and well-informed.
Today's Poland is very much a mix of the old and the new, and the two are not always in harmony. Background knowledge of the land, people, and history is crucial to understanding who the Poles are today: the Polish sense of identity has been forged by history, and the reader is introduced to the main events of Poland's turbulent past. A chapter on values and attitudes provides essential insights into this relationship-based society, and will help visitors understand why things are done the way they are. Further chapters describe important festivals and rites of passage, as well as how Poles go about their daily social and work lives. Valuable advice is also offered on how to get along with them.
The Polish people are warm and generous and place great value on personal relationships. Show an interest in their history and an awareness of their culture, and your welcome will be warmer still.
Have a more meaningful and successful time abroad through a better understanding of the local culture. Chapters on values, attitudes, customs, and daily life will help you make the most of your visit, while tips on etiquette and communication will help you navigate unfamiliar situations and avoid faux pas.
Praise for Poland - Culture Smart!: The Essential Guide to Customs & Culture
"...the perfect introduction to the weird, wonderful and downright odd quirks and customs of various countries,"
- Global Travel
"...full of fascinating, as well as common sense, tips to help you avoid embarrassing faux pas,"
- Observer
"...offer glimpses into the psyche of a faraway world,"
- New York Times
"Culture Smart! has come to the rescue of hapless travellers,"
-Sunday Times Travel
"...as useful as they are entertaining,"
- Easy Jet Magazine