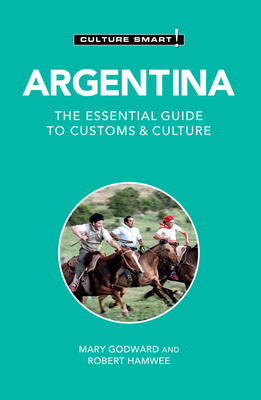 Argentina - Culture Smart!: The Essential Guide to Customs & Culture
Publication Date:
September 28th, 2023
Usually Ships in 3 to 7 Days
Description
Don't just see the sights―get to know the people.
The second-largest country in South America, Argentina has been through great changes in recent years. Its journey from dictatorship to democracy has left many scars, but these are largely eclipsed by the pride and resilience of the Argentinian people, who have developed a style, a language, and a joie de vivre that are all their own. Embracing much more than gaucho, tango, and soccer, Argentina is very unlike its neighbors. And, due to the unique way in which it evolved, is quite different from the expectations many visitors have of a stereotypical Latin American destination.
This new, updated edition of Culture Smart! Argentina looks at the attitudes and values of the people and how they've adapted to the challenges and events of the last decade. It introduces you to their customs, traditions, fiestas, lifestyle, and cuisine, and provides you with the essential tools to make the most of your time here.
Have a more meaningful and successful time abroad through a better understanding of the local culture. Chapters on values, attitudes, customs, and daily life will help you make the most of your visit, while tips on etiquette and communication will help you navigate unfamiliar situations and avoid faux pas.
Praise for Argentina - Culture Smart!: The Essential Guide to Customs & Culture
"...the perfect introduction to the weird, wonderful and downright odd quirks and customs of various countries,"
- Global Travel
"...full of fascinating, as well as common sense, tips to help you avoid embarrassing faux pas,"
- Observer
"...offer glimpses into the psyche of a faraway world,"
- New York Times
"Culture Smart! has come to the rescue of hapless travellers,"
-Sunday Times Travel
"...as useful as they are entertaining,"
- Easy Jet Magazine