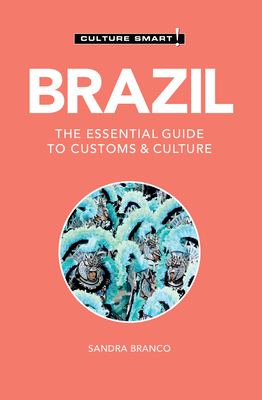 Brazil - Culture Smart!: The Essential Guide to Customs & Culture
Publication Date:
September 28th, 2023
Usually Ships in 3 to 7 Days
Description
Don't just see the sights―get to know the people.
For many people, Brazil conjures up images of football, Carnaval, and fine coffee, but it's much more than beaches and bossa nova. If we had to choose one word to describe the country, it would probably be diversity. The variety of lifestyles, ethnic groups, landscapes, and climates Brazil encompasses is quite simply enormous. This guide provides you with a comprehensive introduction to everything you need to know.
Jeitinho is how Brazilians deal creatively with life's everyday complications. Literally translated as a "little way," in practice it means that where there is a will there is also usually a way, regardless of the rules and regulations that may be in place. The jeitinho is so ingrained in daily life that you can see examples everywhere; managing to get a seat when all the places are booked up, traveling with more luggage than is allowed, or successfully ordering something that isn't even on the menu.
Culture Smart! Brazil is your guide to understanding the Brazilian people, their values, and the complexities of their national identity. Familiarize yourself with their traditions, culture, and way of life and your experience in this beautiful and life-affirming country will be greatly enriched.
Have a more meaningful and successful time abroad through a better understanding of the local culture. Chapters on values, attitudes, customs, and daily life will help you make the most of your visit, while tips on etiquette and communication will help you navigate unfamiliar situations and avoid faux pas.
Praise for Brazil - Culture Smart!: The Essential Guide to Customs & Culture
"...the perfect introduction to the weird, wonderful and downright odd quirks and customs of various countries,"
- Global Travel
"...full of fascinating, as well as common sense, tips to help you avoid embarrassing faux pas,"
- Observer
"...offer glimpses into the psyche of a faraway world,"
- New York Times
"Culture Smart! has come to the rescue of hapless travellers,"
-Sunday Times Travel
"...as useful as they are entertaining,"
- Easy Jet Magazine